Passwordless authentication is no longer a dream: SD Worx, a leading European provider of people solutions, will soon offer its users passwordless, yet secure, access to its HR applications. Using TrustBuilder Mobile Authenticator eliminates the need for expensive, less secure and less user-friendly alternatives.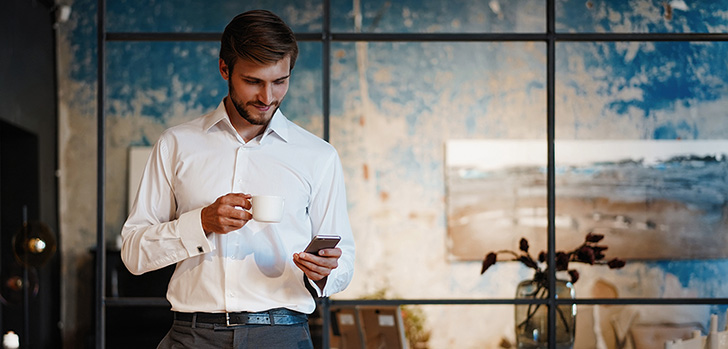 SD Worx is a European frontrunner when it comes to digitizing HR services. The company was among the first to move from paper-based processes to offering web and mobile applications to its customers. "Digital will be the main channel to deliver HR interactions in the future," says Michael Custers, CMO at SD Worx. By bundling a host of HR applications in one place, SD Worx makes life easier for both specialized HR staff and employees.
Over 4 million people use SD Worx's HR applications. Either on a daily basis (HR professionals at the SD Worx customers) or less regularly, for instance customer employees who want to consult pay slips, request leave, approve expenses, … The information stored in HR applications is highly confidential and personal, so access is protected using Multi-factor authentication. Traditionally, SD Worx used username and password combinations complemented by hardware token devices, one-time passwords sent by SMS (SMS OTP) and mobile authenticators such as Google or Microsoft Authenticator.
"We wanted to get rid of the username-password combination," says Gert Beeckmans, Chief Risk & Security Officer at SD Worx Group. "Improving the overall employee experience was our priority. Keying in extra codes to authenticate on top of having to manage your passwords is a considerable burden and creates friction. What we were looking for was a solution that was even simpler than a user/password combination. Something that is so easy to use that users wished they had this system for every app they need to authenticate for. For us, as an organization, there is a second benefit: sending SMS OTP is expensive if you have high volumes of users using numerous online services."
Strong authentication solution
After scanning the market for a solution with a good customer experience that eliminates any usability hurdles for their customers, SD Worx chose TrustBuilder Mobile Authenticator. It is a strong authentication solution for mobile devices combining the world's safest authentication method with the best user login experience.
TrustBuilder Mobile Authenticator caters to the mobile user who wants to get rid of passwords and adds strong authentication for mobile as well as for web-based applications. Once users have onboarded to an application, they can access that application by requesting a push notification to their smartphone. Just a fingerprint or a PIN is enough to access the application. If TrustBuilder Mobile Authenticator is integrated into a mobile app, even the push notification is not necessary.
Seamless integration into SD Worx app
"What really attracted us to TrustBuilder Mobile Authenticator was the user-friendliness of the solution, plus the ability to seamlessly integrate it into our own mobile application," said Michael Custers. "It is great that we can combine access to information and a user-friendly tool to secure that access in one single application. Integrating TrustBuilder Mobile Authenticator into our mobile app SD Worx Assistant will certainly help drive adoption of it." Users of the SD Worx app get an integrated solution and do not need to swap from the SD Worx app to an authentication app or messaging app. A Proof of Concept demonstrated how easy the integration was and delivered on the promise of easy onboarding and authentication. "Onboarding to a new application is sometimes a hassle," said Gert Beeckmans. "With TrustBuilder Mobile Authenticator, the entire flow is intuitive."
SD Worx will start rolling out TrustBuilder Mobile Authenticator to its 250,000 current app users this spring and hopes to have onboarded a million users by the end of the year. By that time, SD Worx will have bundled all of its applications and will be using a single authentication mechanism at the back end, which is based on TrustBuilder.io Suite. "Having previously worked with TrustBuilder made it easy to opt for TrustBuilder Mobile Authenticator. Besides, we were really charmed by the cryptographic solution and the strong security around it. It is clear that this solution has been thoroughly researched," Gert Beeckmans commented.
"Our work with industry leader SD Worx illustrates the growing importance of investing in central solutions that improve the overall user experience and secure critical information," says Frank Hamerlinck, CEO, TrustBuilder. "Simplified and secure Customer Identity and Access Management (CIAM) strategies are more important now than ever before, and we are proud to assist these industry leaders in their digital growth."