TrustBuilder and nextAuth announced an OEM partnership, which enables TrustBuilder to embed the nextAuth software into its brand new TrustBuilder.io release.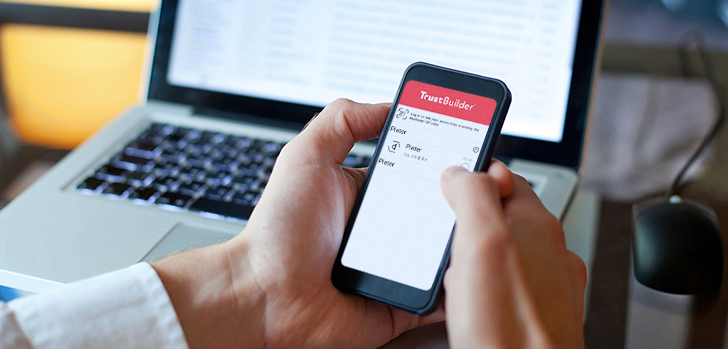 TrustBuilder and nextAuth are Belgian scale ups that help users to secure their transactions with organizations. Their innovative solutions are geared at making authentication as easy as possible to the user, without compromising security.
TrustBuilder accelerates the digital transformation of its customers by securing digital ecosystems for their users, powered by the many out-of-the-box integrations with Identity Providers and third-Party Service providers. Based on advanced features like single sign-on and adaptive authentication the adoption by their end customers is high. The collaboration with nextAuth strengthens the TrustBuilder solution by extending it to the mobile device. It adds Multi-Factor-Authentication (MFA) and e-Signing capabilities to the various end-to-end use cases like customer onboarding, passwordless authentication and transaction signing. A first version of TrustBuilder.io with the embedded nextAuth software is already in use at a number of customers.
"Mobile phones are an integral part of daily life and have become the preferred device for consumer interactions," says Frank Hamerlinck, CEO of TrustBuilder. "Consumers require convenient yet safe access to their bank accounts or to online commerce sites. They don't want to be bothered with using different passwords. Combining nextAuth with the TrustBuilder Suite allows our financial services and other customers to offer convenient access to their services, growing their customer base, increasing customer loyalty and tapping into new revenue sources."
"It is our mission to protect users in their online interactions by making complex authentication technology easy," says Jens Hermans, CEO of nextAuth. "Users can now easily and quickly log in, approve transactions, put digital signatures and benefit from secure communication, without compromising security. The technology of nextAuth and TrustBuilder are natural complements of each other, offering a complete solution to a broad range of IAM challenges. Through this partnership, we offer a fully integrated solution that has been thoroughly tested, eliminating long integration trajectories."
About nextAuth
nextAuth is a technology spin-off that originated out of Belgium's top cryptographic university research department imec/KU Leuven COSIC. nextAuth provides an innovative mobile user authentication technology to companies. nextAuth's innovation lies in combining a great user experience with the highest standards in security. The nextAuth solution can be fully integrated, both on the mobile side and on the server side, giving the user a seamless branded experience. Organizations can rely on nextAuth to take away the complexity of dealing with cryptography and keeping track of quickly evolving mobile environments.
Website: https://www.nextauth.com
LinkedIn: https://be.linkedin.com/company/nextauth
Twitter: @nextauth